Opie
Opie loved me and I loved him so much.
Love, your best friend
Sascha
Sascha talked nonstop and was the sweetest cat I ever owned. We will miss her forever.
Love, Me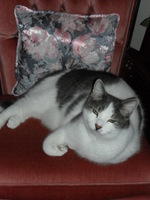 Kirby James
We lost our Kirby James last May with a heart problem. He was only 9 and we still miss him. I have adopted two knew babies, Silvie Lyn and Nicolas James.
Love and miss you.
Ellie
Ellie was a loving force of nature. She took care of us in her loving way, inspired us with her agility and intelligence, and graced us with her beauty and spirited play. Ellie was our best friend and beloved companion for almost 15 years.
We love you Ellie! Kathy and Tank
Daisy
Daisy came into my life when I needed her the most. I was newly divorced and struggling. The minute I saw her I knew she was for me. She knew it too. I had 17 wonderful years with my little partner. I miss her so very much every single day. She was my heartbeat!
Love you so, Mama
Abby
Abby was my little girl and best friend. She was only with me for 7 years, but her memory will remain with me forever. She had such an impact on me that I wrote a book about her life. It was so hard to lose her, but I'm so glad I knew her.
Love, Mama
Scruffy
Scruffy was so special to our family I miss her so much
Scruffys family
Lick
We got our little poodle for our daughter that was in the 3rd grade, he was the light of our lives, he gave us so much joy and fun times. We lost our little boy to cancer when our daughter was in college, he was with us a long time. Our hearts broke when we lost him.,we still miss him to this day.
Love, Dub, Jan, Dean and Amanda Hill
Roscoe
Dear Roscoe, You adopted me 5 years ago after being battered & abused. I did my best to give you a happier, healthier life. I wish I could have bottled your purrs, nose kisses & the way you reached for me to keep petting you. You just left yesterday & I miss you already. Thank you for being my friend, you gentle soul. Goodbye, my pal, my buddy boy
Your loving pet mom
Goldies
Goldie was our delicious dachshund. We adopted her when she was 5 years old and died at 16 1/2. Everyday was a pleasure. I miss her so much. We loved our time together.