Baby
Too all my babies. From dogs, cats birds, mouse, possum and fishes.
Dewey loves all of you.
Cinnamon Crunch
I lost my lil girl on May 22, 2015. You were the best, I miss you every day. RIP Cinnamon
Love Ya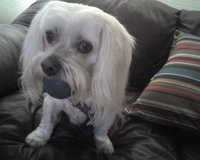 Sparky
You were our 1st dog and we will be forever grateful for wonderful years of happiness you gave us. I'm sure you and KG are happy to be together again. We will cherish our memories of our days together until we meet again.
All of love, Mom, Dad, Archie and Coco
Hunni
Hunni, you were a special kind of dog and even now mummy and daddy miss you so much. Our lives are empty without you. When we rescued you, you rescued us to. You gave us both love and memories that will never be forgotten and aren't. We miss you so much. We hope you are running free little girl.
Love mummy and daddy
Brownie
I found Brownie running down the middle of the street one hot afternoon and she spent the next eight years as part of our family. She often made us laugh, and the first time she saw the beach was the first time she barked -- a deep, guttural sound full of joy. We love her and miss her still, our Little Big Bear.
Love, Mom and Dad
Gracie and Petey
For fifteen years, you filled our hearts with love. You were our puppy-babies, pure goodness. We miss you both deeply and hope you have endless beaches, endless treats, and so much love where you are.
Ever in our hearts, Mom and Dad
Peanut
Peanut was part of my life for 29 years. I am thankful to have the support of her Facebook community. The last few years of her life are documented and during this time I grew closer to her than ever, as I looked at her world through her eyes. I miss you PP Bird, I think of you everyday.
Love, Mom
Hannah
We lost our sweet Nana Bear due to bloat on a cold, snowy February night several years ago. The pain and ache still lingers and I wish that I could turn back the clock and recognize her pain sooner as we may have been able to save her. She was our first "baby" and will forever be. She was so loved and will be missed each and every day.
Love, Mommy
Meggy
Our dearest little girl doggy, we will miss you every day. You were indeed our Little Petunia in the Onion Patch. You were especially Dad's little girl. But we know you loved your Mom as much as your brother, Free does. He misses you, too. There are no words to express how empty your place in our hearts and home is.
Love, Mom, Dad and Free
Patches
Dear Patches, I miss you every day and cannot figure out why you passed away suddenly. I'm sure that mom probably lured you to the bridge with a soup bone, lol. I hope to see you again, some day, handsome boy. You are forever in my heart.
Your loving 2-legged mom